Why A&H Electricians?
Union County's #1 Generator Installation
TRUSTED for over 20 Years in the Union County Community
Locally Owned & Family Operated
Affordable & There When You Need Us
Still not convinced?
Read our reviews...
Do You Need a Generator?
With the amount electricity we rely on a daily basis, having a backup up power source should be a no brainier. That's why our expert electricians specialize in delivering and installing both commercial and residential generators. Let us help you eliminate the stress and inconvenience of power outages or storms with an emergency generator.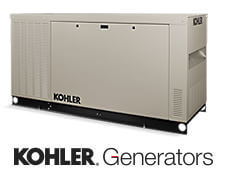 A & H Installs Kohler Generators
What Generator Services Does A&H Offer?
As a generator contractor, we offer comprehensive services that include generator installation and maintenance. We'll help you chose a unit that best suits your needs and circumstance. We'll install your backup power generator as well as remove the previously existing machine. Our electricians are on call for routine maintenance and emergency repair services so that you never have to go without power.
Types of Emergency Generators A&H Installs
From electric generators to natural gas generators, our experts are versed in working with an extensive array of options so that you can find the best Kohler generator for your individual needs. Our generator installation process is tailored to accommodate all types of home backup generators.
Natural Gas Generator
Compared to non-renewable alternatives, the natural gas powered generator is the cleanest burning. Even more, it's extremely efficient and one of the most affordable options. Natural gas generators are popular in New Jersey, as natural gas fuel is readily available.
Propane Generator
A propane generator burns cleanly and is often regarded as the best generator in terms of durability and lifespan. Even more, it's non-disruptive as it runs silently. On the other hand, this complex machinery makes propane generators one of the most expensive options.
FLAWLESS EXECUTION!

"Mike, Liam and the A&H crew were prompt, courteous and professional. The installation was executed flawlessly and the work space spotless. We highly recommend A&H!"
- John L., ARC Credit Union
Roselle Park, NJ
Electric Generator
An electrical generator employs magnetic fields to convert mechanical energy into currents. Because of it's power, it's the best generator for fueling motors and other machinery for everything ranging from hospitals and schools to airports and manufacturing plants. On the flip side, its dependence on electricity eliminates its use as a home backup generator.
Diesel Generator
Diesel Generators don't require a power grid, making them a great backup generator for home in the event of a power outage. With single-phase and three-phase options, diesel generators can be used in commercial settings as well. Although more cumbersome, diesel is one of the effective fuels, giving you the most for your money.
A&H Electricians serves the following towns and surrounding areas:
Bedminster
Berkeley Heights
Chatham
Garwood
Long Hill
Millburn
Roselle Park
Short Hills
Springfield
Warren
Generator Consultation & Estimate
If you're looking for a power generator for home or business, let our experience, licensed electricians help you through the process. With access to the best generators on the market, we'll secure a backup power source that suits your individual needs and budget. Our fast, responsive service, combined with affordable pricing, has put as at the top of the generator companies. Give Union County's go-to generator contractor a call at 908-272-7909 or email for a FREE consultation and estimate.